I think just about everyone I've talked to lately has had enough of this winter. So I thought this would be the perfect time to hold a Gardening Tips and Tricks Blog Hop!
It's super easy!
1. Link up your favorite Gardening Tip or Trick to ensure a bountiful harvest. Anything that you've found that works (eco-friendly) in your garden.
Seed Starting

Managing Pests

Companion Planting

Composting

Seed Saving

Weed Control

Disease Control
2. Show the love with the Blog Hop Button!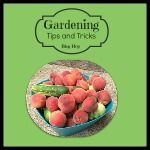 I'm excited to see what you share! I don't know about you, but I'm ready for spring!